Note: This article can be found on page E6 of the April 23, 2000 Daily News.

Debbie Tate finds rewarding life in helping others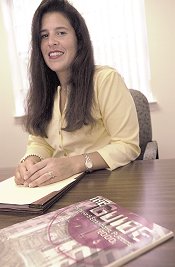 By MICHAEL STEWART, Daily News Staff Writer

"Andy" was 50 years old, out of work and one day from being evicted from his apartment. With no where to turn, the situation looked pretty grim for the Crestview resident.
Then Debbie Tate entered Andy's life.
Attractive and full of energy, Tate, a self-described "bleeding heart," helped Andy turn his life around. Tate works for the Private Industry Council, a nonprofit organization that helps people down on their luck.
The next day, about five days before Christmas, Tate and Andy looked on as the evicted man's belongings were piled alongside the street.
"People were driving by and asking, 'Are you having a yard sale?' " Tate said. "And of course Andy is getting all upset."
Tate, a networking whiz, went to working the phones, soliciting help from churches and organizations. The Salvation Army brought a truck over, loaded up Andy's belongings and sent them to a rented storage shed.
Andy stayed in the Hotel Hilton for five weeks with Tate on the phone every day seeking donations for his upkeep.
Tate went home nights and e-mailed Andy's relatives, updating them on his condition. She set up a doctor's appointment where it was discovered Andy had suffered a stroke a couple of years back, impairing his memory. She helped Andy apply for disability and helped organize the repair of his car.
Today, Andy has another apartment and lives comfortably on his Social Security and disability checks. Without Tate's help, chances are things might not have gone as well.
The Private Industry Council in Crestview teamed up with the Florida Division of Workforce and Employment Opportunities to form a one-stop job assistance program.
"PIC's mission is to help people find jobs and become self-sufficient," Tate said. "Along with that, what usually happens is there are usually other problems associated with not being able to find steady employment."
If transportation is a problem, Tate helps the clients find a job within walking distance. If clients lack needed job skills, Tate tries to place them in training programs. Funding for vocational courses, computer classes and certificate programs are sought by Tate.
If the client cannot afford new clothes needed for a job, Tate may recommend that the person take a job that issues uniforms. Job seekers are taught how to write resumes and have access to fax and copy machines.
"Everybody's case is unique," Tate said. "You just have to look at each individual and see what he or she needs."
If someone is homeless, the organization will try to put him or her up in a motel. If someone's electricity or gas is turned off, Tate will point the person to an agency that can help.
The help does not stop once a job is found however.
"They may have to take an entry-level cashiers job to begin with," Tate said. "But, if they have the desire, we try to help them get the training to move up into management."
Tate's humanitarian bent does not end when she punches the time clock at the end of the day. She also likes working with children, donating time to Little League and the Twin Cities Optimist Club. She hopes to teach some day and works for the SAT Committee at her children's school.
One of her greatest pleasures though is seeing her clients improve their lives.
"If you see them out in the community, they will give you a big hug and say, 'This is the person I told you about that helped me get through school,' " she said. "It is very rewarding."