Cardinals Gathering in Texas
on October 20, 2001
Location and Time:
Picnic at the Hico Park


Saturday, October 20 at 10:00 a.m. til . . .

Food:
We need everyone who is coming
to sign up to bring something-sort of like a potluck!
Click here for the food list page.
Bring:
Lawn Chairs, Picnic Blankets, Camera
Photos from school days and the Y2K Reunion
Want to know who is planning to come?
Click on: Who All's A-Comin
Want to know Fred's rules for visitors to Texas?
Click on: Fred's Rules
Want to see the photos from the 1st Hico
Reunion (October 1, 2000)?
Click on: Hico Reunion 2000

Here is a map to Hico.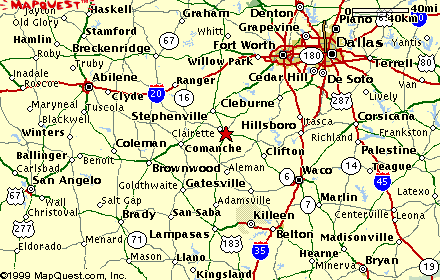 Fred's Directions to the park:
Highway 6 goes through town. At the Dairy Barn, get on Elm Street and go south about 7 blocks to the park. (The Dairy Barn is two blocks East of Ranglers Convience store.) Cross the bridge and you will be at the park. The bridge crosses the Bosque River. About anyone in town can tell you how to get there. I can hardly wait till all of use guys can get here.

Back to Reunion Page
Back to Table of Contents