2nd Annual Slow-Pitch Tournament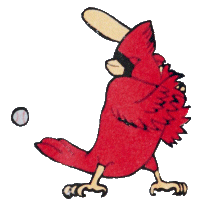 High School Baseball Field
Sunday, July 1, 2001
4:00 p.m.

Admission:
$2 (proceeds donated to athletic department)
Who is Playing:
An invitation is extended to members from the classes of the 60s, 70s, 80s, and 90s with the Classes of 00 and 01 filling in where needed to make up teams. The 70s team is preparing to defend their 2000 championship title. Those wishing to play should be at the park by 3:30 p.m.
Bring:
Gloves, ball caps, sports cream and ace bandages.
Concession:
The concession will be operated by The Eunice Booster Club & they will be cooking. So you can grab your dinner while you watch the tournament.
Proceeds from last year's admission fees helped purchase new baseball hats for the Cardinals.

If you don't want to play, come and cheer your team on. Support the Eunice Schools Athletic Department and the Booster Club at the same time!