Glenn has unofficially been named the Teller of Tall Tales on the Eunice Cardinal Message Board.
These stories were told by Glenn (EHS Class of 51) on the Message Board.
They are interactive stories with the readers responding as the story was told. Click on the story you wish to read.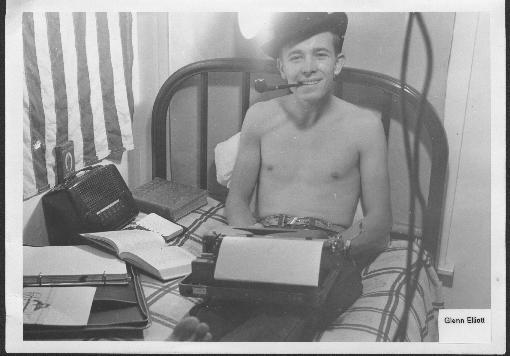 Glenn in his days at EHS

The History of the Nauga Industry in Eunice

Forget the "X-Files", Hear This!

Diamonds Right Under Your Feet

Dr. Psycho Babble Opens for Business

Was It a Real Eunice Jackalope?

Somewhere Along the Trail to Eunice

Something Unusual in Loch Eunice!

How Eunice Really Got Its Name

---
THE ROAD KILL CAFE SERIES
Road Kill Café Menu Changes for 2000
Bubbles Joins Road Kill Wait Staff-WOW!

Road Kill Café Adds MaitreD

Valentine Blow-out 2000 at RKC
Sheriff Called to RKC Blow-out
RKC Calls for St. Pat's Theme Ideas-2000
RKC Won't Serve Thumper on Easter-2000
Mother's Day at the RKC

Bubbles Gets Excited about the Y2K Reunion
Road Kill Cafe Sponsors Float in Y2K Parade
Road Kill Cafe to Feature Seafood
Jalapenos Ravage Road Kill Cafe
Road Kill Cafe To Host 'The Lint' Turkey
Holiday Facelift for the RKC-Christmas 2000
Bringing in 2001 at the RKC
Photo of the Eunice Road Kill Cafe located near the Y
Order your Road Kill Cafe Cap Here
---
Back to EHS Table of Contents